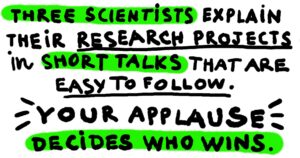 After a 2 year hiatus, we're back, and will be resuming our monthly events through fall. Seattle Science Slam is a free event featuring three engaging and accessible presentations from scientists. The audience's applause decides who wins. This month we have an astrophysics talk on the fate of our sun, a statistics talk about mosquitos and west nile virus, and a chemical engineering talk on drug delivery.
Kids friendly, dog friendly, arrive early to get seats. Outside food allowed, food truck on-site.

Be sure to follow us on Facebook or subscribe to our email list 

http://eepurl.com/dw9MY9

 to get updates on future events!
OBSERVING THE FATE OF WORLDS AROUND WHITE DWARF STARS

Keaton Bell, NSF Astronomy and Astrophysics Postdoctoral Fellow, University of Washington

In five billion years the Sun will run out of fuel, and its death throes will kill any remaining life on Earth. The Sun and essentially all stars that host planets will eventually end their lifetimes as hot, compact white dwarf stars. The planets that orbit white dwarfs reveal the futures of planetary systems like our Solar System. As we enter the era of big-data astronomy, we finally overcome the observational challenges that make these planets difficult to discover. Keaton will share his work to uncover this new type of planet that orbits dead white dwarfs by searching for moments when these stars briefly disappear from the night sky.
STATISTICAL ANALYSES OF CULEX MOSQUITOES, IMPORTANT VECTORS FOR WEST NILE VIRUS
Seth Temple, 3rd Year PhD student in Statistics, University of Washington.
West Nile Virus (WNV) is the largest cause of mosquito-borne disease in humans in the United States. The genus Culex mosquitoes are well known vectors for WNV in temperate climate zones whereby they take blood meal from infected birds and later bite humans. The development of statistical methods to couple local environmental conditions with expanding mosquito surveillance can provide risk assessments to public health. Seth will describe (1) a machine learning model to estimate habitat suitability for Culex species in North and South America and (2) a new statistical methodology applied to the study of WNV in Ontario, Canada.
EXPLORING STRUCTURE AND DYNAMICS OF THE PLGA-PEG COPOLYMER AND ITS HOMOPOLYMER CONSTITUENTS IN VARIOUS SOLVENTS USING ALL-ATOM MOLECULAR DYNAMICS
Chris W Nyambura, 5th year PhD Candidate in Chemical Engineering, University of Washington
Low oxygen levels before or during childbirth is still a primary issue when it comes to newborn mortality. For those babies who do survive, they grow up living with debilitating disabilities that interfere with their ability to reach their full potential. By acting early after childbirth and reducing cell-damaging symptoms, quality of life can be improved but precise delivery of life-saving drugs to the right body part, within newborn children, is very difficult. Polylactic-co-glycolic acid (PLGA)-based polymers are synthetic materials that are prominent in drug delivery. Specifically, PLGA-PEG, a block copolymer, is used to form core-shell nanoparticles that can address issues that arise during administration of protein drugs. This core-shell nanoparticle is known for imparting "stealth" properties to various drugs, in addition to being biodegradable and biocompatible. Current methods of making the PLGA-PEG copolymer nanoparticle can be tuned to improve therapeutic delivery; however, molecular-level understanding of PLGA-PEG shape and motion during nanoparticle formulation is lacking. Chris will explain how he used Molecular Dynamics, a computer simulation method, to characterize the size and motion of PLGA-PEG in different solvents used in the formulation of core-shell nanoparticles.