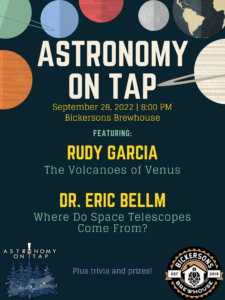 Astronomy on Tap is on Wednesday (09/28) at Bickersons Brewhouse in Ballard, starting at 8pm!
The first talk is going to be Rudy Garcia talking about the volcanoes on Venus, and the second talk will be from Eric Bellm and will be about where space telescopes come from. Hope to see you there!
Each FREE Astronomy on Tap event features accessible, engaging science presentations on topics ranging from planets to black holes to the beginning of the Universe. Most events have games and prizes to test and reward your new-found knowledge! There is always lots of time to ask questions and interact with the presenters and other scientists who inevitably stick around for the beer.