This month AoT has a guest speaker Dr. Aaron Meisner!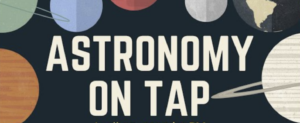 Each FREE Astronomy on Tap event features accessible, engaging science presentations on topics ranging from planets to black holes to the beginning of the Universe. Most events have games and prizes to test and reward your new-found knowledge! There is always lots of time to ask questions and interact with the presenters and other scientists who inevitably stick around for the beer.
Be sure to follow AoT on Twitter and Facebook to get updates on future events!
————–
Title: Crowdsourcing the Hunt for Nearby Worlds
Speaker Bio: Dr. Aaron Meisner is a staff astronomer at NSF's NOIRLab in Tucson, Arizona. He co-founded the popular Backyard Worlds citizen science project, which combines big data, machine learning, and crowdsourcing to hunt for our coolest, most extreme Milky Way neighbors — brown dwarfs.